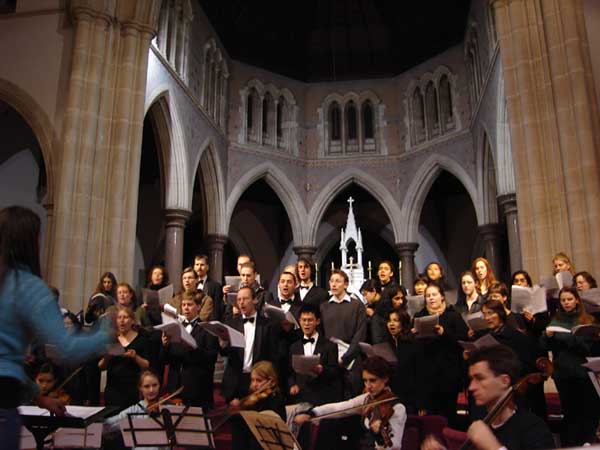 The Monash University Choral Society (MonUCS) was founded in 1962 by students who wanted to increase their knowledge and experience in choral music. One of the oldest student-run clubs at Monash University, MonUCS performs two concerts each year giving the community an opportunity to experience a diverse range of choral repertoire. Performances have included the Australian premiere of the 1998 Broadway musical Ragtime, Mozart's Requiem and Vivaldi's Gloria, Orff's Carmina Burana, Rachmaninov's Vespers, Gilbert and Sullivan's Pirates of Penzance, and Brahms' German Requiem.
MonUCS was a founding choir in the Intervarsity Choral Council in 1968. MonUCS' members annually participate in Intervarsity Choral Festivals, frequently performing with state symphony orchestras. Recently, members attending the 2018 Melbourne Intervarsity Choral Festival performed Vaughan Williams' Toward the Unknown Region, Brahms' Alto Rhapsody, Parry's I Was Glad, and the jewel in the crown, Elgar's Light of Life, accompanied by the Melbourne Opera Orchestra.
Over its 60 year history, MonUCS has developed a solid reputation in the musical community in Melbourne. In addition to their own performances, the choir has been invited to perform with the Melbourne Symphony Orchestra, the Monash Music Department and with the touring Hong Kong Baptist University choir.
While having a large student base, MonUCS is open to all members of the community. The choir is non-auditioned, offering singers of all levels of experience the chance to rehearse and perform a wide selection of high quality classical and contemporary repertoire.
In addition to MonUCS' strong music culture, the choir is a very social group. Meetups at Pixel Cafe and Bar follows the conclusion of the weekly rehearsals, with choristers socialising and at times exhibiting random outbursts of singing. An annual dinner, movie nights, rehearsal camps and post-concert parties provide further opportunities for new members to get to know returning faces within the choir.