MonUCS welcomes all singers who share the passion for singing. Membership is open to everyone and no significant skill in singing or sight-reading is required. We are a non-auditioned choir that holds our weekly rehearsals in the Religious Centre (Building 9) of Monash University Clayton Campus.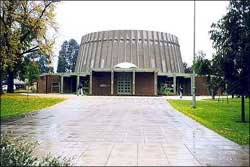 To join the choir, just turn up at one of our rehearsals on Tuesdays 6.45pm and if you are uncertain of your voice part, the existing members will be more than happy to help you. You can join us for a couple of rehearsals before becoming a member and there is no obligation for you to sign on the dotted line immediately.
Remember to join us for our weekly social events which include coffee at a chorister's house or at the bar – we'll let you know what's happening at rehearsals.
If you have any questions, please direct them to secretary@monucs.org.au and the Secretary will be able to help you!
We look forward to seeing you there!